Regular price
Sale price
$500.00
Unit price
per
Sale
Sold out
Shipping & Returns

Allow two weeks for production. We ship worldwide. All sales are final. We do not offer cancellations or refunds. Please see our privacy policy for more details.
Care Instructions

• Hand Wash
• Do Not Bleach
• Do Not Tumble Dry
• Cool Iron
Hot people love foam trucker hats.
Share
View full details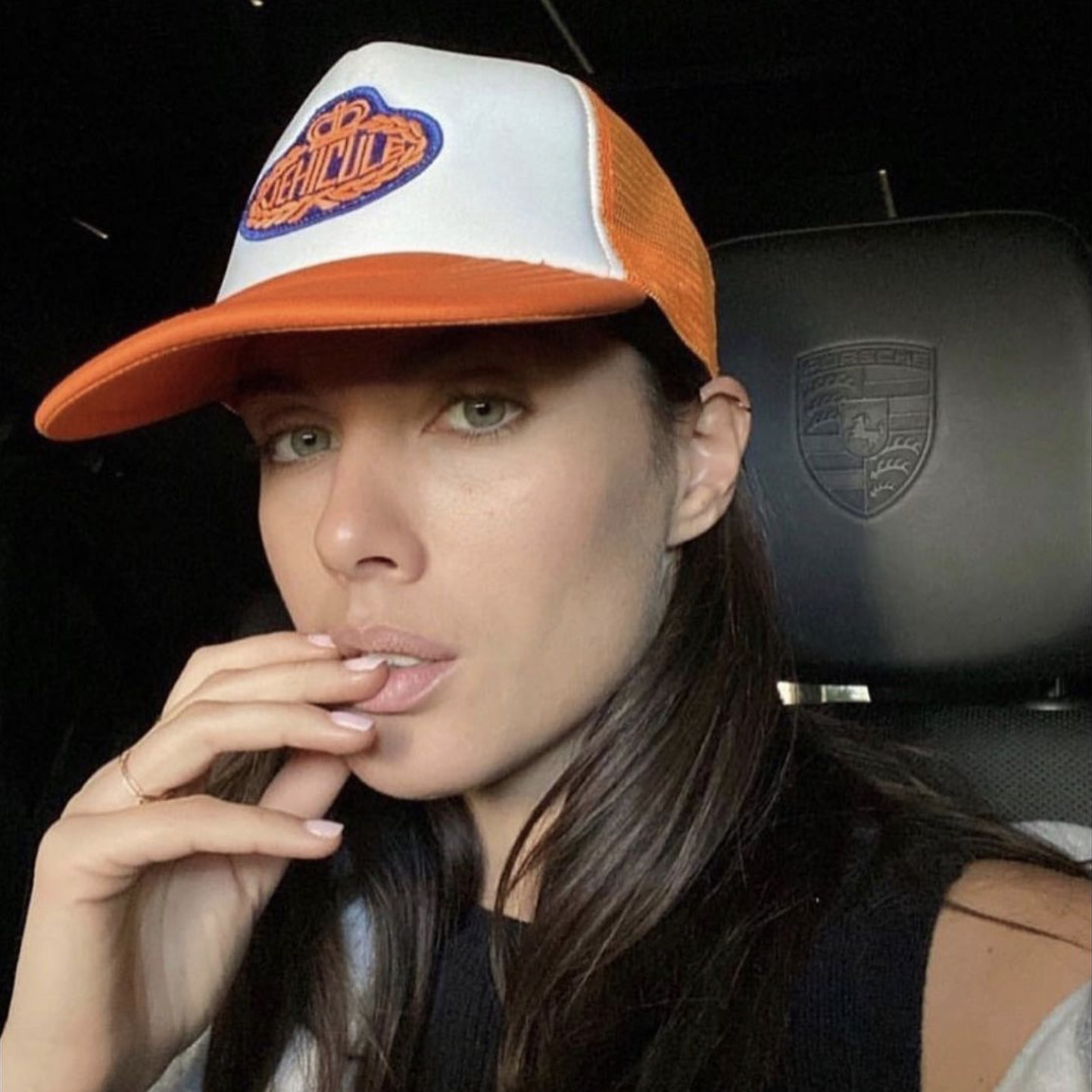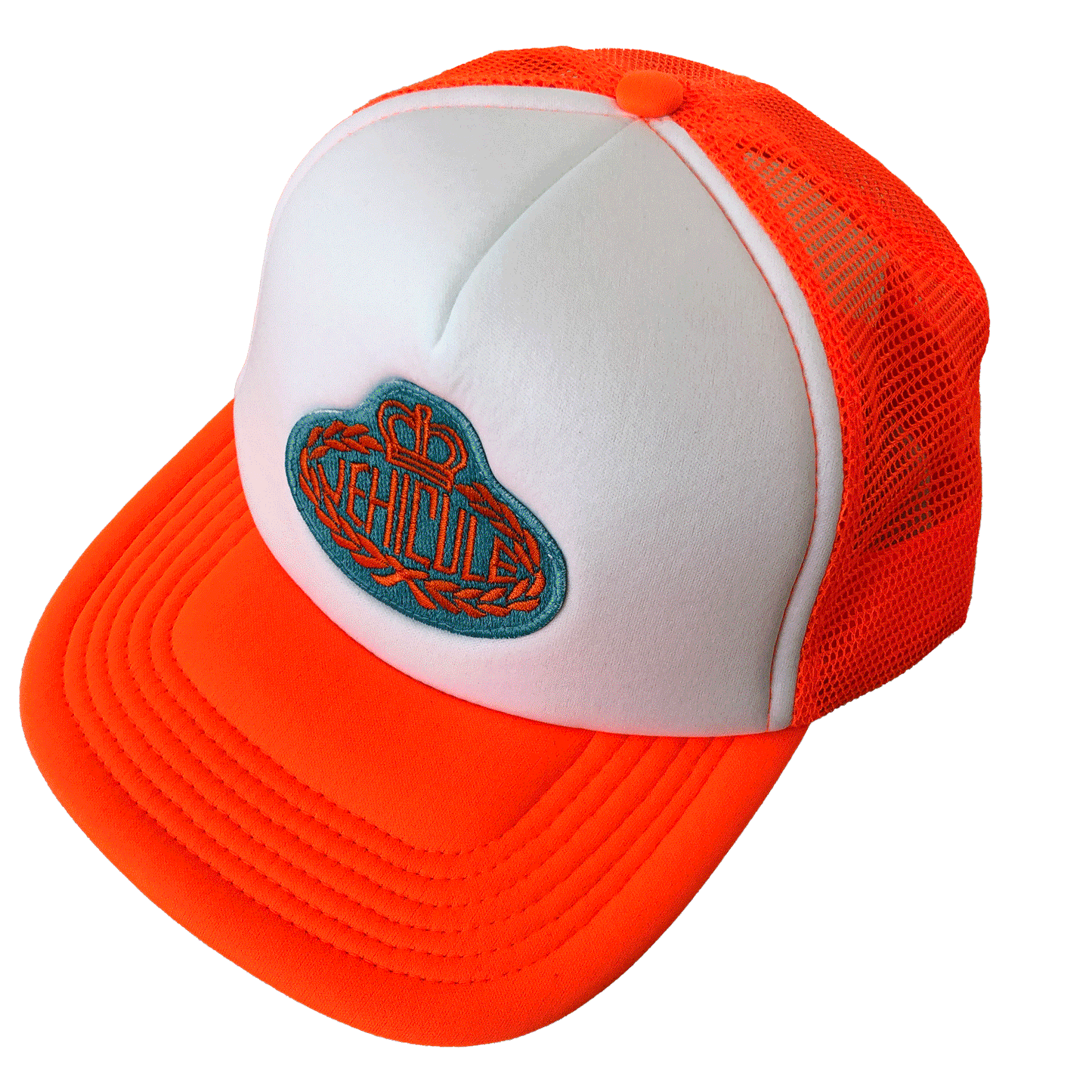 Collapsible content
ABOUT

Miami-based VÉHICULE is the product of years spent dissecting the behind-the-scenes intricacies of the art, design, automotive, advertising, filmmaking and corporate worlds.

In the vein of designers such as Raf Simons or Martin Margiela, little is known about the makers themselves. Instead, the focus lies with the concept.

Created as a cross-platform, interdisciplinary, multimedia outlet for all things avant-garde, VÉHICULE first manifested in 2020 as a print edition. The volume, printed with a variety of covers, each reflecting the journal's contents, was dedicated to the high-stakes world of offshore powerboating and its dramatic underbelly riddled with drugs, smuggling, cheating and murder. It was entirely ad-free—an explicit acknowledgement of the publication's dedication to purity and truth to form, rendering it more akin to a fine-art edition than a commercial product.

Rather than being supported by advertisers, VÉHICULE derived its funding from dedicated partners and its growing fanbase. Sold for €100, the price tag was less a barrier to entry and more so a symbol of mutual trust between the project and those who consumed it. In setting that price, VÉHICULE expressed pride in what they had crafted and signaled that it is, as they state, "not for everyone." In accepting that price, each person who ordered an issue voiced their express support for the publication's ideals.

The edition quickly sold out, was overhauled with new contributions and was reissued. Never one to limit himself, VÉHICULE's founders built upon the momentum of the print edition to continue developing the brand into the platform that it was conceived as—one that produced objects of value for an exclusive clientele.

VÉHICULE's Miami-centric focus served as a catalyst for in-depth projects designing two of the (many) things that the city is known for—cars and boats—taking the prompt "What's a high-performance truck if you have nothing good to pull behind it?" as a jumping-off point. In collaborations with leading names in the industry, they obsessively hand-picked an ex-military Mercedes-Benz G-Wagen, and restored and transformed it until every part of the car had been touched, tinkered with and perfected. In the end, it had a naturally aspirated 550-horsepower V8, refined suspension setup and lush interior treatment. Designed to be towed behind it was what VÉHICULE dubbed the 300R SUPER FLATS—a carbon-fiber, 20-foot, flats-style boat with a massive 300-horsepower V8.

While this pairing of projects was guided by pure mechanical brutality, VÉHICULE was simultaneously developing a line that operated on a very different end of a similar detail-obsessed spectrum. With endeavors into the world of apparel—jackets, hats, swimwear, eyewear, watches and accessories—VÉHICULE integrated the bold with the playful, toying with the scale and form of his ethos, adapting and rethinking it at will. This attracted the attention of Italian business magnate Lapo Elkann and his Italia Independent brand, resulting in exclusive, limited-edition capsule collaborations that stood as representations of a unique synthesis of creative languages, approaches and mentalities.

Constantly striving toward the limits, the next logical step presented itself in the form of the VÉHICULE Race Team. In standard VÉHICULE fashion, the concise name tells no lies—this is a team of real racers. Not only that, it is a team of real winners, counting two-time world powerboating champions Jan-Cees and Paul Korteland, rally legend Albert von Thurn und Taxis and racing polymath Riccardo Ponzio among its ranks. The team operates on the principle of "Once a champion, always a champion," with each member reveling in the success of the other. Together, they form a tight network bound by a sense of competition.

Perhaps it's this driving force that attracted Drake's venerated OVO label. Their signature owl is emblazoned on the VÉHICULE Race Team Bernico FTX27 racing boat. Everyone we have contacted to find out more has stayed tight-lipped, although OVO doesn't post about other brands readily. While we're on the topic of partnerships though, we are hearing that VÉHICULE turned down working with Palace, and that they're making moves into architecture and snacks.

So what is it that has proven so magnetic about this off-beat, underground, indefinible project to those most discerning? Casting exclusivity aside, the consensus seems to be that the main draw is VÉHICULE's particular union of a DIY approach and high-end execution.

It's just a saying, but it's ultimately true. "If you want something done well, do it yourself." No matter the scale, this seems to be at the heart of VÉHICULE's admittedly scattered portfolio. In a world marred and hamstrung by compliance, overthinking, countless departments pulling in opposite directions and a general lack of direction, the Miami natives are looking back to move forward, signaling a return to the freewheeling, visionary focus of the recent past, and reintroducing the avant-garde spirit that they have become known for.

Select Press: Vogue Italy | Wallpaper | Intersection
SHIPPING & REFUNDS

Currently, we are unable to process refunds or accept returns. However, please be aware that your right to cancel an order does not impact your consumer rights concerning any defective or incorrect products you may receive. If you happen to receive a defective or incorrect item, kindly reach out to us immediately at contact@vehicule-magazine.com, providing your order number and a detailed description of the issue.

Once you receive the products, the risk associated with them transfers to you or any designated recipient. Consequently, any loss of or damage to the products becomes your responsibility from that point onward, in relation to our mutual agreement.

All orders are processed within 2-5 business days if not noted otherwise. Orders are not shipped or delivered on weekends or holidays. If we are experiencing a high volume of orders, shipments may be delayed by a few days. Please allow additional days in transit for delivery. If there will be a significant delay in shipment of your order, we will contact you via email or telephone.

Shipping charges for your order will be calculated and displayed at checkout.

You will receive a Shipment Confirmation email once your order has shipped containing your tracking number(s). The tracking number will be active within 24 hours.

VÉHICULE is not responsible for any customs and taxes applied to your order. All fees imposed during or after shipping are the responsibility of the customer (tariffs, taxes, etc.).

VÉHICULE is not liable for any products damaged or lost during shipping. If you received your order damaged, please contact the shipment carrier to file a claim.  Please save all packaging materials and damaged goods before filing a claim.
STOCKISTS

AUCKLAND

Ligne NZ
299 Great North Road, Grey Lynn, Auckland 1021, New Zealand

BATH

Magalleria
22A Broad St, Bath BA1 5LN, UK

BARCELONA

News & Coffee
Paseo de Sant Joan 17, 08010 Barcelona, Spain

BERLIN

König Gallery
Alexandrinenstraße 118-121, 10969 Berlin, Germany

COPENHAGEN

Etage Projects
Borgergade 15E, 1300 København, Denmark

FORLI

Frab's Magazines
Via Gioacchino Rossini 25-7, 47121 Forlì, Italy

JAPAN

PAN KANAZAWA
4-3 Tatemachi Kanazawa Ishikawa 920-0997, Japan

LONDON

Charlotte Street News
66 Charlotte St., London W1T 4QE, UK

Good News
23 Berwick St, London W1F 8RB, UK

MagCulture
270 St John St, Clerkenwell, London EC1V 4PE, UK

Magma
117-119 Clerkenwell Rd, London EC1R 5BY, UK
29 Short's Gardens, London WC2H 9AP, UK

Rococo News & Magazines
12 Elgin Cres, London W11 2HX, UK

Shreeji Newsagents
6 Chiltern St, Marylebone, London W1U 7P, UK

MEXICO CITY

Casa Bosques
Córdoba 25, Roma Nte., Cuauhtémoc, 06700, CDMX

MIAMI

DACRA
3841 NE 2nd Avenue Miami, FL 33137, USA

Dale Zine
7395 NW Miami Pl, Miami, FL 33150, USA

TheArsenale
69 NE 41st St, Miami, FL 33137, USA

The Shop at The Standard
40 Island Ave Miami Beach, FL 33139, USA

MILAN

Garage Italia
P.le Francesco Accursio 22, 20151 Milano, Italy

Larusmiani
Via Monte Napoleone 7, 20121 Milano, Italy

MUNICH

Ligne Roset Fünf Höfe
Salvatorstraße 3, 80333 Munich, Germany

NYC

Bowery Showroom
57 Stanton St, New York, NY 10002, USA

Import News
5 Oliver St, New York, NY 10038, USA

Assembly New York
170 Ludlow St, New York, NY 10002, USA

PARIS

Cahier Central
12 rue Lacépède Paris, France

Centre Commercial
9, rue Madame, 75006 Paris, France
2 rue de Marseille, 75010 Paris, France

Hôtel Amour
8 Rue de Navarin, 75009 Paris, France

Kith Paris
49 Rue Pierre Charron, 75008 Paris, France

Les Editions du Kiosque & KDPRESSE
83 Rue Chardon Lagache, 75016 Paris, France

Palais de Tokyo
13 Avenue du President Wilson, 75116 Paris, France

SAN FRANCISCO

Smoke Signals Newsstand
2223 Polk St, San Francisco, CA 94109, USA

SEOUL

Erevo Sinsa
586-5 Sinsa-dong, Gangnam-gu, Seoul, South Korea

STOCKHOLM

Papercut AB
Krukmakargatan 24, 11851 Stockholm, Sweden

ST. PETERSBURG, FLORIDA

Kelev Mags

ZURICH

Highsnobiety Gate Zero
Zurich Airport

Print Matters!
Hohlstrasse 9, 8004 Zürich, Switzerland

Monocle Shop and Café
Dufourstrasse 90, 8008 Zürich, Switzerland